Ahhhh, Father's Day! A chance to let the dads in your life know just how much they mean to you. But honestly, nothing says "Happy Father's Day" quite like funny Father's Day memes.
So if you're looking for a Dad's Day meme to crack you up or to send along to your favorite dad and make him laugh too, you've come to the right place!
Here are 27 hilariously funny Father's Day memes to celebrate the occasion!
First, there are the funny memes about Father's Day gifts
Choosing the right Father's Day gift is so challenging. If you're a little kid, you can get away with filling out one of these cute keepsake Father's Day questionnaire printables or maybe just coloring a picture and calling it a day.
But if you're older, the stakes are a little higher and you'll need to give it a little more thought. If you're feeling creative, you don't have to go with a traditional present.
Sometimes an unconventional Father's Day gift is just as good, as these memes so aptly point out:
I mean, getting out of a ticket has to be worth way more than a World's Best Dad mug!
Don't knock it! –Weddings are expensive!
Whether you go the traditional route or choose something less conventional, unfortunately, it's possible for a Father's Day gift to go completely wrong either way. Just look at these memes… 
Yikes! That's gotta hurt!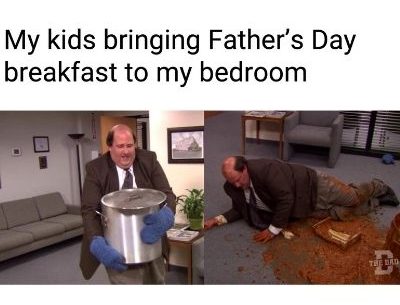 Honestly, this particular picture of Kevin from The Office dropping the chili makes me laugh every single time. I was thrilled to see The Dad turn it into a hilarious meme for Father's Day.
Thankfully, Dad always seems to play along. Whether it's a 53027th tie or not.
But every now and then, lightning strikes! You find the perfect Father's Day gift for your dad and you just know you've nailed it!
But the really important thing, whatever you decide to get for Father's Day, is that you keep it a secret. After all, secret-keeping is something all kids, everywhere, are known to excel at, right?
These memes highlight how differently we celebrate Father's Day from Mother's Day
Maybe it's societal pressure, maybe it's tradition… whatever the reason, Father's Day champagne brunches aren't usually a thing.
Of course, even if you're not having a champagne brunch, grilling with a beer's not a bad way to spend the day either. It's science!
Of course, there are some differences that seem a little unfair. Many moms are very clear about wanting a break on Mother's Day (see below):
But… when the shoe's on the other foot, well…
Moms also typically get a lot of direct praise and thanks for Mother's Day. Dads get that too, but… sometimes it seems like it's laid on a little thin by comparison.

Of course, to be fair, my husband will laugh at a fart reference anytime, anywhere, no questions asked. Me, not so much.
The following meme actually has a lot in common with the funny Mother's Day memes I've seen. It seems that hardly anyone appreciates the homemade breakfast that accompanies these holidays. Maybe we should just go out (or better yet, get takeout!).

All kidding aside, the double-standard in some of these Father's Day memes, although admittedly funny, can be downright mean. Like this one:
In the words of Full House's Stephanie Tanner, "How rude!"
Of course, it's Dad's day. He should celebrate Father's Day however he'd like, even if it requires a bit of lawn prep work the day before:
And why do we celebrate fathers anyway? Well, that's easy to explain!
These perfectly funny Father's Day memes highlight some of the things that make dads so great!
Dads sacrifice for their families. Sometimes those sacrifices are small, but other times, they're huge, like with this sandwich:
Dads also know how to lay down the law when it's really needed.
And who could forget all the important lessons dads teach–and how they go about teaching them?!
Some of those lessons are more important than others. Like this little lesson about physics from Henpecked Hal 🙂
But it's not all tough love and physics lessons. Dads can be super sweet too (well, to their daughters at least):
But kids really benefit from what Dad brings to the table. After all, moms may (stereotypically) bring the planning and the safety, but dads bring the fun.
(I get it, that's not the way the roles divy up in every house– but it's definitely true in ours).
And let's go ahead and take a moment to appreciate all the opportunities Dad gave us for a second bite at the apple growing up. (Some of the most trouble I ever got in was when I'd ask one parent for something after the other parent had already said "no". Whoops.)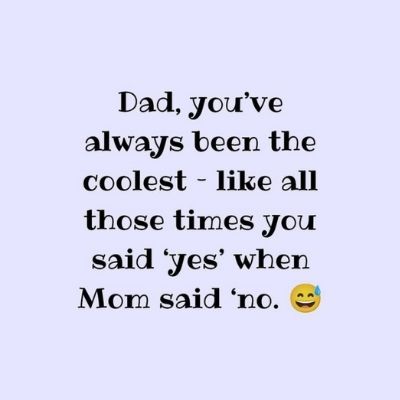 And finally, on Father's Day, we should certainly appreciate one of the dad's ultimate contributions: Dad Jokes.
Where would we be without fart references and neverending puns? I don't even want to know!
If you're the type who usually rolls your eyes at a solid Dad joke (ahem, my oldest child), too bad. Today you need to lock up the sarcasm and give a chuckle. It's Father's Day, after all!
However you choose to spend the day, I wish all the wonderful dads a wonderful Father's Day! I think Amanda Marcotte summed it up nicely with this meme:
We love you, we appreciate you, and we'd be lost without you!
If you enjoyed this post, you may also like:
Hilariously Funny Mother's Day Memes to Make You and Your Mom Laugh Out Loud
15 Hilariously Funny Bedtime Memes For Parents Who Just Want Some Peace
Hilariously Funny Laundry Memes to Make You Laugh When the Laundry Struggle Is Too Real!