It's the best time of the year – fall! I love absolutely everything about fall, including the memes!
For the laugh you deserve now that there's a chill in the air (or not), check out these hilarious fall memes.
These memes are for my fellow fall-lovers in the bunch.
The people who look at the calendar and squeal with delight when they see the season is changing.
The people who celebrate fall like the holiday season it is!
As these memes make clear, fall weather is… subjective.
Sometimes you celebrate because the weather is just so incredibly perfect, as these fantastic memes show.
But then… other times… well, other times, fall needs to get its act together.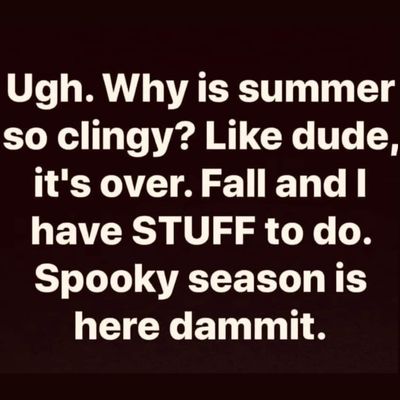 Perhaps summer's just a little confused about when it's supposed to be here and when it's supposed to… leave!
But when that summer heat finally breaks? It's just magic!
And who can forget that weird in-between time, when the weather is just all over the map?!
But in the end, it doesn't matter. Fall is more than the weather. Fall is an experience!
These funny fall memes remind us that some stereotypes exist for a reason.
Everyone loves fall, but some people (ahem, ladies) make their love and devotion to the season more obvious than others.
And of course, moms, especially, love fall and fall activities with their kids. What could possibly go wrong…?
(Of course, if you're looking for an actual fall family bucket list of activities, I have a free one here!)
If you really love fall, the only logical choice is to completely bombard your home with fall decorations. And by home, I mean inside, outside, the yard, the cars, all of it!
Is it even fall without Pumpkin Spice?
Full disclosure: I hate coffee and coffee drinks, including Pumpkin Spice Lattes. Feel free to revoke my Basic Girl card.
However, I DO love Spiced Pumpkin Candles. Those are a delight!
Fall fashion, like fall memes, also varies widely.
I LOVE jeans and sweatshirts. They are my uniform.
But like the creators of these memes about fall fashion, I am unable to pull off the flannel and vests without looking like a (short, squatty) lumberjack.
For some inexplicable reason, there are some people who don't look forward to the fall.
These memes about fall -haters are for them.
Honestly, fall is just the best! There's really only one thing in this season I don't care for, and that's Daylight Savings Time.
Darkness by 5:00 PM? Woof! But Daylight Savings Time is a whole 'nother subject with its own memes, so we'll save that for another day.
Instead, I'll leave you on a positive note – with this semiannual reminder to our neighbors to, in the words of the Fresh Prince of Bel Air, "Mind Ya Business… just miiiind ya business!"
Happy Fall, Y'all!