Christmas is my favorite holiday for so many reasons — and one of those is definitely the hilarious Christmas memes!
If you've stuck around my website or social media channels for any length of time, you know I LOVE a good parenting meme. Nothing helps me through the shenanigans of parentings like a witty one-liner paired with a funny picture.
The holidays can be super stressful, especially for parents. That's why funny Christmas memes are the gifts that keep on giving!
Here are just a few of my favorite hilarious holiday memes. I'll be adding to this post regularly (because my favorite meme creators just don't quit), so be sure to check back again later!

Funny Christmas memes from holiday movie classics
Christmas movies are the best. Naturally, memes made with Christmas movie references are also the best!
This is one of my favorite Christmas movies, and this scene, in particular, gets me every time. Naturally, I had to make a meme out of it:
The Grinch is another of my favorite Christmas movies. Judging by the number of memes out there, other people feel the same way!
But honestly? When it comes to Christmas movies, Home Alone is a classic among the classics. Not surprisingly, some of my favorite funny Christmas memes are based on this film:
When I successfully complete the morning drop-off, my satisfied, devious face basically matches Kevin's exactly.
Seriously. That would NEVER. HAPPEN.
But I have to say, now that I watch these movies with my kids, this scene catches me a little off-guardevery time…
These memes are basically clever hacks for surviving the holidays.
Ask for gifts that will be helpful to you.
You know what's better than utilities and bills? BABYSITTERS!
Of course, don't forget to buy yourself something nice!
But of course, don't worry. In those last few days before Winter Break, schools are here to help you with this!
Christmas memes to make you laugh when the parenting struggle is just too real
Thank goodness for Santa!
And let's not forget the painful hilarity that comes when your child asks for something truly awful for Christmas:
And what about the kids who change their minds about their Christmas list 4324362 times?
Nope. Nopity nope nope. You can change your mind all you want, but Santa's no longer listening! In fact, Santa is done absolutely no later than when the Prime Window closes, as Casey from Bouncing Forward so perfectly puts it:
These Christmas memes are funny because they're painfully true
Remember when you thought it'd be a good idea to buy that Chipmunks CD? Better think again…
Maybe you're thinking about trying some quintessential holiday activities, like baking Christmas cookies. Better come prepared…
Another Christmas classic is visiting with Santa. For some kids, that's all fun and giggles. For others, it's… terrifying.
Or MAYBE you opened your mouth and a little bit of your own mother came right out!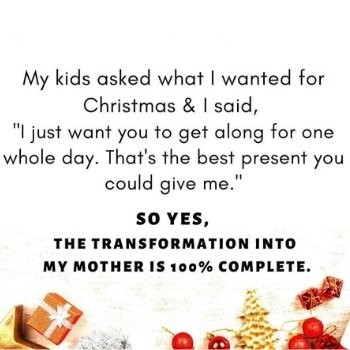 And let's not forget– you may think you're ready and on schedule. But then December 23 rolls around and it's painfully clear: you're not!
Even when Christmas is over, the memes don't have to stop!
After all, that whole week after Christmas is basically a joke that writes itself.
For starters, let's talk about the state of the house. All those beautiful holiday trappings turn into a giant disaster approximately 2.5 seconds after the kids wake up on Christmas morning.
And all those gifts? They come with a whole lot of packaging. Since a tiny Hatchimal the size of a quarter uses enough plastic and packaging to securely wrap a small child… you better have your garbage cans ready!
(Seriously. One year, we missed the trash day right before Christmas and we were basically overrun with garbage for the next four days!)
And finally, what do you do with that wonky week between Dec. 25 and Jan. 1? Well, Phoebe from Friends has the right idea…
I've never been one to set (let alone follow through with) New Year's resolutions. But if I were, turning into a couch is right up my alley…

However you spend the holidays — whether it's socializing, relaxing, or turning yourself into a couch– I wish you Merry Christmas and Happy New Year!