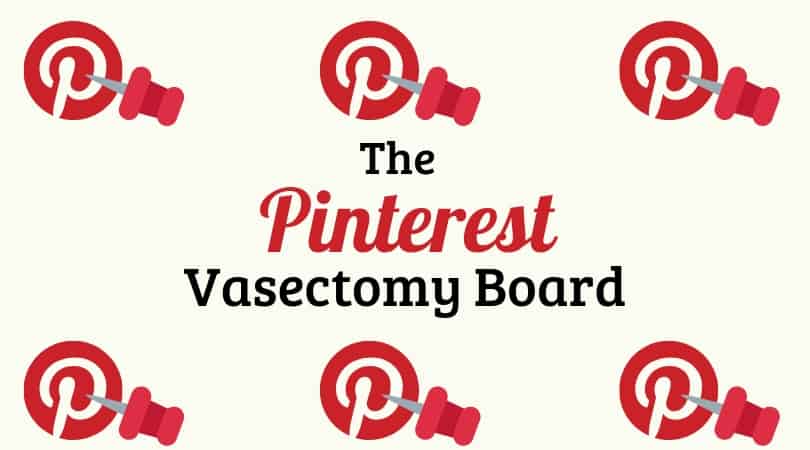 What is the "right" size for your family? This question has plagued just about every couple I know at some point. If you're lucky, you and your spouse will be on the same page about this.
And if you're not?
Well, this is likely to  prompt conversation after conversation, centered around the question:
Are we done having kids?
My husband feels done way more often than I do, so we get to resurrect this conversation allllllllllll the time. There are occasions where we both feel pretty sure we're done, but those days are usually of the stick-a-fork-in-me-I'M-DONE variety. There are occasions when neither of us feel done (like when the boys are behaving especially well and acting too precious for words). However, most of the time is spent in the no-man's-land of in-between, the uncertain territory.
Out of our time in this undecided territory emerged The (Imaginary) Pinterest Vasectomy Board. 
Before you panic and close this blog post because you worry that things are about to get weird, don't. Like everything I say and do, this may be weird, but it's not that kind of weird (and it's totally safe for work).
For those of you who are unfamiliar with Pinterest (have you been living under a rock for the past decade? Okay sorry, that was rude and I'm getting off-track here), it is a website and app that functions as a virtual pushpin board for ideas you'd like to try. You can "pin" recipes, parenting tips, craft ideas, remodeling preferences, anything really. When you see an idea you like, you just click the button and "pin it" to your virtual board.
My husband learned about Pinterest when I was planning a birthday party for our oldest a few years ago. I have regretted showing it to him ever since because this is the root of our family's theoretical Pinterest Vasectomy Board.
The Pinterest Vasectomy Board: How it works
Here's how "The Board" works in our house: every time one of our kids does something undesirable (so roughly 6,000 times/day), Hubby lifts his hand and and pretends he is pinning something to a cork-board, our imaginary Vasectomy Board. Allow me to illustrate this with some real-life examples:
It's family dinner time and everyone is talking at their very loudest around the table. Is it talking or is it screaming? Who can tell?! Look over to the hubby and hear him say, "Pin it!"
Kid throws a very public, mortifying tantrum over nothing? "Pin that one, too."
Kid pees all over the floor? "Well, there's one for The Board."
Then there's my least favorite: the silent pin.
Kid permanent-markers the wall? Inform the hubs and, without saying a word, he just makes a silent push-pinning motion in the air.
If you think any of this imaginary pinning activity is funny or charming, rest assured that it is neither, but it certainly brings some livelihood to the "Should we have more kids?" discussion.
I make the case for more babies when the kids are adorably cuddly, when they are caring and loving to their siblings, and with endless photos of their sweet little baby faces and videos of their precious toddler voices.
Hubby makes his case by pinning "Kid1 vomits in Dad's mouth" to our imaginary Pinterest Vasectomy Board.
Balance, folks.
I guess the upside here is that Hubby has not created an actual cork-board in our house with photos of our children's misdeeds physically posted to it, like a household Wall of Shame.
Yet.
*****
Pin Me!If you enjoyed this post, you may also like: