St. Patrick's Day is an interesting holiday for me as a parent. For the longest time, it was just another excuse to go out, have fun, and drink green beer. Then…. enter, KIDS.
Once you become a parent, sure, you can still have a great time on this holiday. However, you also need to find fun St. Patrick's Day Activities for kids that are suitable and appropriate (and, obviously, drinking green beer isn't one of them).
If you're looking for something easy and fun to do with your kids this St. Patrick's Day, check out this list of great ideas! I've grouped the activities by type — St. Patrick's Day craft activities, educational activities, and sensory activities.
St. Patrick's Day Craft Activities for Kids
Sometimes the perfect holiday activity is a craft — perhaps a well-done craft by an elementary schooler or a haphazardly assembled, but equally adorable, craft by a toddler or preschooler. I selected these St. Patrick's Day craft activities for kids because they were cute and not overly complicated.
First, there's this Shamrock Suncatcher craft by Sarah in the Suburbs. Her tutorial is easy to follow and the supplies are really basic (construction paper, tissue paper, glue, tape, and scissors). It's very similar to my Contact Paper Easter Egg craft, which has been a consistent hit every year. In fact, if I were doing this, I'd probably make the shamrock opening out of contact paper and save myself some hassle.
Another cute and simple St. Patrick's Day activity is this Leprechaun Handprint Craft from Simple Everyday Mom. The supplies are basic, the process is easy, and the outcome is cute. This would make a great St. Patrick's Day activity for kids at home or in a daycare or classroom setting.
Another variation of a leprachaun craft is this Popsicle Stick Leprechaun from Crayons and Cravings. Not only is this Leprechaun puppet on a stick easy to make, but like the previous crafts, the supplies are really affordable (and easy to get) as well.
This Shamrock Corner Bookmark is a really cute way to have craft time and encourage literacy simultaneously. My two oldest kids are both at a stage where they're really into bookmarks, but having one that sticks on the corner of the page is a little different (and with kids, novelty is huge).
Finally, if you're looking for something as simple and easy as it comes (with a new baby in the house, this may be the only St. Patrick's Day activity with my kids I can muster up), there's these free St. Patrick's Day coloring sheets from Mama Smiles.
St. Patrick's Day Activities for Kids That Are Educational (or Educational-ish)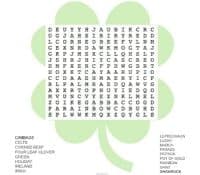 Depending on your kid(s) age(s), a word search may be the perfect QUIET St. Patrick's Day Activity for your kids (amen and hallelujah!). You can grab this free St. Patrick's Day Word Search from Mama Likes This.
This bingo game from The Artisan Life is another relatively quiet St. Patrick's Day Activity for Kids. Well, you know, aside from the part where your kids scream out "BINGO!" and then fight and argue over who said it first. Oh I'm sorry, does that only happen in my house? Carry on then…
Crayons & Cravings has another cute, free St. Patrick's Day Bingo game, but hers involves high-frequency sight words, so it's grade for those readers in the early stages.
St. Patrick's Day wouldn't be St. Patrick's Day without some rainbows! Grab some Skittles and do a rainbow science experiment with this preschool or elementary science activity from Little Bins for Little Hands.
Fun With Mama has another St. Patrick's Day science activity for kids that is fun and relatively easy, but it will take a little more effort (you'll need to boil water on the stovetop). If you're feeling a little more ambitious, you can check out that salt crystal experiment here.
Leprechaun traps are always a big hit with kids–and they can be as simple or complicated as your supplies and kids' imaginations will allow. Preschoolers can make basic leprechaun traps and elementary schoolers can be more elaborate. For both age groups, I highly recommend getting and reading the book How To Catch a Leprechaun.
To see some great suggestions for leprechaun traps, you check out The Best Ideas for Kids' post.
This Leprechaun catapult is a mixture of a craft, a game, and a physics activity. It will take a little effort to assemble, but the supplies are basic (some popsicle sticks, tape, and plastic spoons). The only thing that might be hard to find in a store are the little black pots for kids to shoot their Lucky Charms into (but they're readily available on Amazon here or here, which is where I do most of my shopping anyway).
I just know my boys would love this, so I included it.
St. Patrick's Day Sensory Activities for Kids
This rainbow craft from Hunny I'm Home DIY is a combination of a craft and sensory activity — and it's incredibly easy, which is why I'm a fan. All you need is some string, marshamallows, and Fruit Loops.
A fun alternative to slime, which I generally hate (more on that in a minute) is Leprechaun Snow. This is especially fun for toddlers and preschoolers, who really embrace sensory play, but kids of any age will enjoy it. Gold coins are pictured, but you can choose various items to put in the snow. Check out Team Cartwright's page for the Leprechaun Snow recipe/instructions.
As I said, I hate slime. I don't care for the texture, I hate how hard it can be to clean up, and I hate how certain brands/recipes seem to stick to and ruin clothes. With all that said, kids absolutely love it. If you're not a slime-hater, this website has a really cool recipe and instructions for Rainbow Slime.
If you're looking for an easy St. Patrick's Day activity for your kids that also helps with fine motor skills, these yarn-wrapped shamrocks from Red Table Art should do it. All you need is cardstock (this green multi-pack is pretty darn cheap on Amazon) and yarn in any shade of green. You can find yarn just about anywhere, but if you're physical-store-shopping averse like me, this set comes with 12 different colors — two of them green. You could do an activity like this for every holiday with a sample pack like that.
Glue or tie down the base of the yarn and let your child wrap away. If you want to make them more festive, you could also add googly eyes or glittery themed accessories to the completed shamrocks.
Holidays with Kids Don't Have to Be Complicated or Expensive
Most of these St. Patrick's Day activities for kids can be done for free with supplies you have laying around the house. For the activities that do require additional supplies, they can be purchased easily and cheaply (two of my favorite things!).
I hope you enjoy some of the activities in this post with your kids this year. If you have a favorite St. Patrick's Day activity to do with your kids, leave me your idea in the comments! I'm always looking for new activities to try with my kids (or at least plan to try and then completely abandon while feeling guilty haha).
If you enjoyed this post, you might also like:
Valentine's Day Printable for Kids – "I Love You Because"